The use of hashtags is very common and has become an integral part of social media as we can quickly find the appropriate content of our interest. When the hashtag is seen from a business perspective, it increases views, builds social followers & creates new customers. In short, it's a way to stand out in big brand competitions.
There are some types of hashtag for implementing in your business:
1) Local Hashtag
Local businesses can gain great exposure by utilizing proper local hashtags that will increase views from specified local areas. When you post something attractive and catchy with local hashtags, it will keep your post relevant and searchable.
Consider the following example- #mumbaifoodie
MumbaiFoodie uses local hashtag #mumbaifoodie in practically every post on Instagram, Twitter & Facebook. It encourages people to Eat, Drink, Travel & Stay in Mumbai and increases engagement with their brand.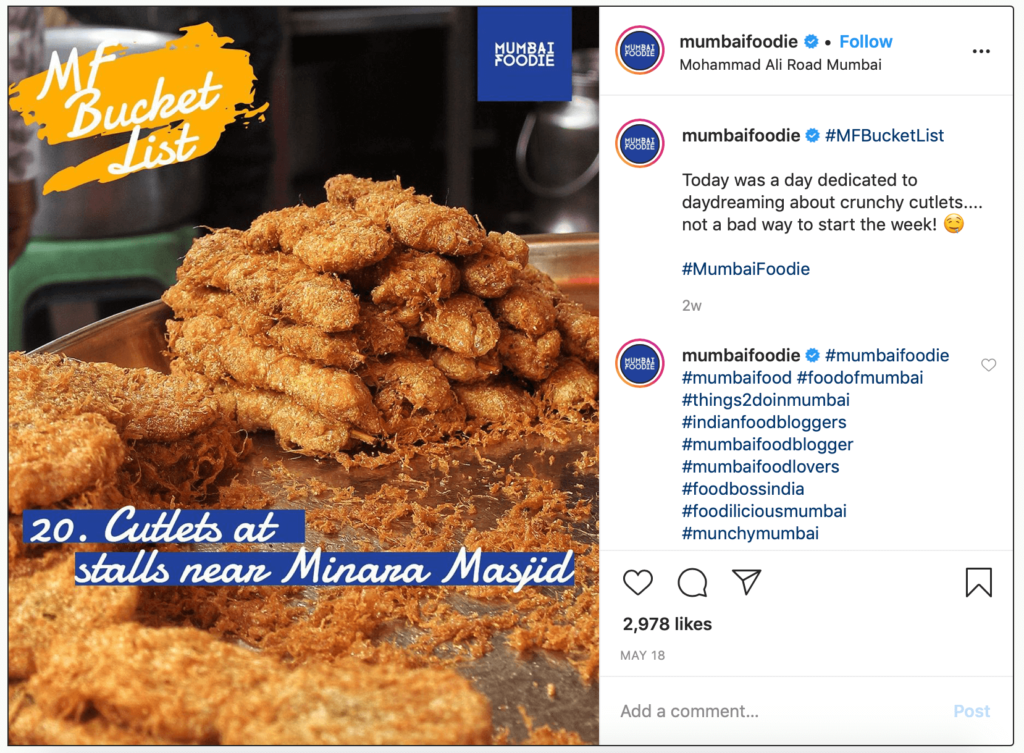 2) Brand Name Hashtag
Brand hashtags are company-specific hashtags. Simpy it can be a company name, tagline, or product name. One of the best ways to increase brand awareness is by often adding fresh posts with their brand name hashtagged & it is the ideal way to engage with your audiences.
Consider the following example- #Ingeniouscope
We publish new posts with our branded hashtag across all social media platforms. It serves as an ideal way to engage with the audience.
3) Campaign Hashtag
Use the campaign hashtag for your current marketing campaign. Promote campaign hashtags for all special offers as a way to attract customers.
Consider the following example- #Sweepstakes
McDonald's – a fast-food company ran a campaign for his contest that encouraged followers and spread awareness of the brand.
4) Seasonal / Holidays or Event Hashtag
A seasonal hashtag like Diwali, Christmas, and New Year's Eve, etc. can trend during their specific period & these are the most searched hashtags on social media during the holidays, events, or specific activities. It can help you get more views, engagement & leads when a business has a special seasonal offer like Monsoon sale or etc.
Consider the following example- #Spring #Rafting 
MakeMyTrip – an Indian online travel company ran a campaign in the Spring season to promote adventure trips. The aim was to get involved with the audience and increase followers and leads.
5) Trending Hashtag
Trending hashtags are for viral trends that become very popular & continuously change in real-time. It can generate a great number of views and searches. You should focus on creating interesting content that responds in kind with the trending hashtag, then the audience will be able to engage with your content.
Consider the following example- #dalgonacoffee
Berger Paints India used the trending hashtag #dalgonacoffee in their post. It is the way people lookout for the latest trend & will also come across to your post using trending hashtag, therefore, increasing your views and engagement.
Use Hashtag on Different Social Media Marketing Platforms:
Twitter: Has restrictions on character count, So, use a minimum of 2 hashtags per tweet for best engagement.
Instagram: It allows up to 30 hashtags, for better engagement keep it to no more than 11 per post.
Facebook: Use a minimum of 2 hashtags, one popular, and custom hashtag for your brand.
LinkedIn: The use of hashtags is unlimited. But recommended to limit it to a maximum of 5.
Pinterest: Can use 2 hashtags, use a unique hashtag to help pinners to find relevant content.
Do's & Don'ts of Hashtags:
Do's
Make sure your account is public
Use your brand-specific hashtags
Make hashtag unique
Keep it relatively short and easy to remember
Use popular hashtags
Use hashtag in stories
Don'ts
Include spaces, punctuation, or other symbols in it
Avoid repetition of hashtags in every post
Make hashtags too long
Avoid using hashtags that are too common
Avoid throw-out unnecessary hashtags
Don't use too many hashtags
Hashtags are powerful marketing tools & can put you in the loop with industry trends, but many businesses do not know how to utilize them correctly or simply they skip it. By optimizing hashtag strategy while promoting your products and services online will create a discussion about your brand and encourage the online community to learn more about it and will boost your business and increase engagement for your content across all social media platforms if used wisely. We will be happy to help you with your social media campaigns. Feel free to contact us.